"Education is a word that represents psychology behind Happy teaching & Happy learning." RB
HAPPY TEACHING:
Teaching is a skill when focus is on study, teaching is an art when focus is on development and enjoyment. You are not a teacher only in School, College or University, you are a teacher in every phase of life. You are a teacher as a Parent, as a Spouse, as an elder Sibling, as Grandparents, as a boss in office etc.
Teaching is particularly linked with Emotional well-being of students.
Happy Teacher = Happy Class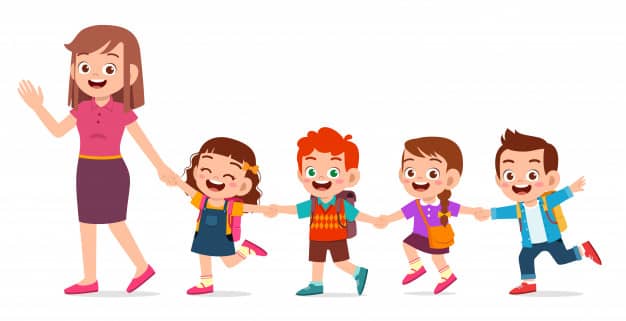 Education is not only for sake of students. Education also involves well-being of teachers. Happy teachers lead to happy students.
Teachers who understand that student well-being is vital part of education also feel overloaded if asked to care about student academic as well as emotional needs. So teacher's happiness is equally important compare to student happiness as happy teacher lead to happy class. Teachers happiness is primarily linked with wages they get, school ambience or teacher student ratio in a class.
Being teachers, you have the highest influence on your students during school time. And a student learning is more than their grading and scores. Success in school for students is much more than just academic performance.
Success need to understand clearly and accordingly guidance must be given to students. Success is not only academic, success is consistent part of efforts we do and what we learnt from that. Success in teaching is not simply by comparing scores of student w.r.t to other class scores or other school scores or others students. In Happy teaching, you upgrade student from formal academic success to success in life.
Success is all about what we think and how we execute in the life. Success is about how we keep ourselves happy, prosper and stay positive. So important for student is look out for broader view of life not the micro view.
Success can't be monitored with your earning but how you make good changes within world lifestyle.
No need to feel guilty. Let's instead feel convicted. Convicted to do better each day and remember what our purpose really is as a teacher.
HAPPY TEACHING-MODELLING HAPPINESS
Focus on live moment instead of thinking about all 10 classroom objectives that you have to complete in a day. Focus on present moment, what is important in this moment? How you can make this moment better.
Life is full of stress, struggle and failure. Teaching is also part of it. So stay positive and keep you classroom full of positive vibes. You can talk to student about good moments in your life, how you overcome challenges in your life. Be role model for them, guide them how to overcome struggle, challenge in life. If you find it difficult, it will be difficult for you to teach your student also.
Students unconsciously observe your body language instead of what you speak. When you teach to be hard, they learn to be hard. Students learn more from observation not from your words. Better to manage students politely and happily.
Keep yourself relaxed being in classroom. You think you should be in high energy and excited all the time to keep student excited. But calmness, softness is equally important to teach sense of humor to students. Teacher must regular practice mindfulness activities in the classroom.
Keep refreshes yourself with breaks else you won't be able to enjoy the teaching. Personal care and relaxation is quite important. Breaks rejuvenate you. When you consistently overload you, gradually you become counterproductive.
Even breaks within study improve students productivity. Breaks must be enjoyed with songs, certain activities or breathing, some movement etc.
Be sympathetic to yourself. Self- criticism is quite disturbing for perfectionists, but it will create ruin students ability to learn in classroom. They may stop taking challenges and stop to step out of their comfort zone.
Student may also develop habit of criticizing themselves instead of building their inner cheerleader.
Respect others is important for maintaining culture within classroom. If you want to teach students to how to treat each other , then you must you are modeling culture of respect and kindness in the classroom. Take care that you are teaching students with love and appreciation.
One of teaching good practice is to teach with the logic of love that will help you to maintain discipline with calmness and respect while stay consistent and firm.
HAPPY LEARNING:
Learning is a big skill, and impact of heredity and genetic factor is substantial high as your brain does its own development during 5-10 years of your childhood and when you have little idea about this world. And even Doctors, your parents, or sociality has very little control on your mental development.
Learn to learn or enhance your learning skills or polish learning skills of any student is little tough task and require rigorous efforts and especially learning ambience. Subsequent you will find how learning can be improved by improving the ambience.
You all know fight or flight response. You focus on your survival when threatened by someone. You immediately plan to take off running. You may become over conscious when you are threatened by tough task or where do not find yourself comfortable. You hold yourself when you don't know the answer or confronted by another student. Important to mention here is that learning becomes difficult when ambience or environment is not appropriate.
Being teachers, you must know that when students are psychological defensive, fight or flight response will work and accordingly they will act or react. Classroom full of defensive behaviors is a sad, not a comfortable place for teaching and learning.
In other way let us observe how much we can learn in harmony with people and in a comfortable environment. Harmony gives feeling of safe environment and gives a place to learning community.
Synching Heart and Mind:
We discussed fight and flight response, let us discuss opposite to fight and flight response. When you are comfortable and we don't feel threated, psychologically you have willingness to be unprotected, you are open to new thing, new ideas and can easily receive guidance from others i.e the ideal learning environment.
Engagement is a state of mind that allows doing tough task, to accept challenge, think thoroughly about an issue and try for new solutions. Happiness, joy, interest and desire are approach emotions. When all these emotions come together, you are psychologically pushed for learning.
In present school environment prime focus is on study only, no time is devoted on emotional and behavioral activities that actually create an engaging classroom environment.
Now you are clear that when you engage student in deep learning, you can really stretch their thinking. So engagement creates magic mix of willingness and curiosity.
It is well understood that people with overwhelmed emotions have more option, opportunity to solve your problems.
We hope you understood that before giving tough task to the students or problems solving, you need to create comfortable, harmonious learning environment that boost vulnerability.
FEW MINDFULL ACTIVITIES FOR KIDS:
Mindfulness activities are important as helps to improve focus and concentration.
Ringing Bell- Ask students to listen the bell till they can't hear the bell anymore.
Body Scan—Observe your body, your legs, your feet, bum whole and finally feel your body weight.
Breathing—Inhale/exhale in the count of 7/11
Let them think about Happiness: Students are asked to feel relaxed and happy and explain about their feelings.
Stay Still: Students are asked to stay or sit still for few minutes.
Observing one object:
Observe yourself while walking
Observe yourself while eating
Observe yourself while standing
FEW PSYCHOLOGICAL EXERCISES FOR TEENS:
Strength/Weakness Analysis: Ask students to think about their Strength, Weakness and think about your Role model and compare their strength and weakness.
360 degree Strength evaluation: 360 Degree strength evaluation. Students are asked to verify their strength through their teachers, parents, neighbor etc.
Cultivating strengths: Students are asked to evaluate their key strengths and find ways to use their strengths in day to day life.
Secret Strength Evaluation: Being asked student to observe and monitor other student strength and evaluate.
Appreciation letter: Students are asked to write appreciation letter to student they are grateful for
Self-Appreciation notes: Students are asked to write things they feel grateful for themselves.
Group Learning: Class is divided into small groups to work on specific task, then teach that topic to the other groups in the class.
Secret Kindness: Students are secretly assigned partners, then asked to care about your partners for certain time period.
Good Things: Students are asked to note down few good things happened to them periodically, then they are asked to evaluate why each thing happened to them and how they can make it happen more.
Hope you liked our Article, Please have few good words.